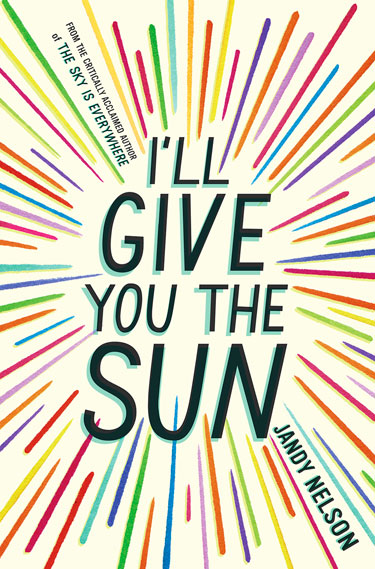 NOTE: This post is being re-published due to issues. It was originally posted yesterday. My apologies for the inconvenience. You can of course still expect to see a new post within the next couple days. Enjoy the book talk!
Boy, this book.
I'll Give You The Sun
was mind blowing! Pegasus read this book a while ago and said it was really good, and then Pegasus gave it to me as a gift (thank you so so much!) and so, of course, I read it as soon as possible. And Pegasus has fantastic book taste - it was
SO GOOD
! I am so glad I got a chance to read
I'll Give You The Sun.
Here's a quick summary for you if you haven't read it:
Jude and her twin brother Noah are very close. 13 year old Noah loves drawing and falls in love with the boy next door, who is absolutely out of this world. However, 13 year old Jude is a daredevil who wears short dresses, surfs, wears red lipstick, and hangs out with the popular kids. But the twins grow apart more and more. Something has happened that ruined both of their lives in different ways. Then, Jude falls in love with a charming boy and also meets someone else, who gives her a chance to discover her true self. Noah tells the story of when they're 13, and Jude tells the story when they're 16. Little do they know that they each have only half of this story, and if they found their way back to each other, they could remake their whole world.
I loved this book so, so, so much! I don't even know where to begin. I'll start off with the characters. This book has probably the best character development I have ever seen in a book. The characters seemed so real, and every time I cracked open this book I really felt like I was there with them. They were so well written, and so realistic! I have never related to book characters more than I did in this book. I loved the characters' personalities too. I related so much to them, Noah especially! This book had amazing romance too, and that's coming from someone who doesn't like romance books.
(SPOILERS AHEAD. SKIP THIS PARAGRAPH IF YOU HAVEN'T READ THE BOOK.) Noah and Brian are a really awesome couple. I loved them together. Their relationship was so well written and I loved it. They're definitely my favourite book couple to ever exist, or at least that I've read. (I'm not big on ships, but if I were to ship two book characters, it would be them.) Thumbs up for very well written romance with those two! I didn't like Oscar much though. I'm still confused about his motives for making out with other girls. I have no idea why Jude forgave him that easily.
The plot was also so well thought out. I couldn't put this book down and read it every single minute I had. (MORE SPOILERS AHEAD IN THIS PARAGRAPH) I loved how everything tied together. I was so shocked. Amazing plot twists! Everything fit together so well and it made so much sense! I was so excited and stunned when everything got cleared up. I had no idea!
Okay, now: emotions. At times I actually laughed out loud. And (please take a seat because this is shocking news) I actually cried. That breaks my emotional book reading record of gasping when Caleb in Divergent chose his faction. Woop woop! But seriously, this book was really emotional. I laughed out loud at times ("I am so glad I'm not a horse!") and other times I was horrifically sad. Sometimes both of those at the same time. And that's amazing for me. No author has ever gotten me that attached to characters that I cried. Gosh, I grieved along with these characters! That has never happened to me before. Very well done, Jandy Nelson!
One thing I didn't really like was the ending. I wanted to know more about what happened to the characters afterwards. It was good, but I just really wanted to read more. I couldn't really accept the fact the the book was over.
I'm absolutely giving I'll Give You The Sun 5 stars; it was utterly phenomenal.
It was absolutely one of my favourites. So mind blowingly good! I couldn't put it down. Highly recommend! However, it has a lot of swearing, so if you are a younger reader, aren't allowed to read that kind of thing, or just don't like it, maybe this book isn't for you. Overall I'd say it's for a bit more mature readers. It's still very, very spectacular though! It deserves much more attention than it is getting, in my opinion. I really, really liked it.